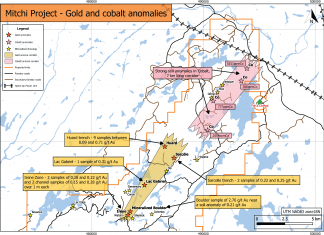 Kiril Mugerman, President & CEO of Kintavar Exploration. "The Mitchi property does not lack exploration targets. In fact, the recent identification of the new gold and cobalt trends complement and adds to our traditional copper mineralization. This is very significant for Kintavar as it provides a new range of targets and a new area to explore. Furthermore, we are evaluating higher grade copper targets within trucking distance of Mitchi in order to be able to consider all these zones ultimately under one resource estimate of significant size. The objective would be to advance these new targets to a drilling stage as quickly as possible and to bring them to the level we currently have at Sherlock. The infrastructure and the location of the Mitchi project is its main advantage allowing to work multiple zones in order to build up a large resource."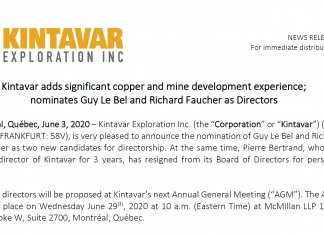 "First off, I would like to thank Pierre for his service and guidance that he provided to Kintavar since the early days of the Corporation. His knowledge and experience in the Quebec mining and exploration industry are second to none and we wish him the best moving forward. With that said, our work over the last 3 years on the Mitchi project has attracted high caliber, experienced mine developers such as Guy and Richard. Not only that both these candidates have tremendous copper experience, they have both recently put mines into production and their knowledge and experience will be vital in advancing the Mitchi project in the future towards that same development. The infrastructure and access of the Mitchi project is a major advantage of our project and as copper prices rebound in the coming years and our exploration team continues to delineate the best mineralized zones from surface, the project will be well positioned towards development. Although we still have a lot of work to do on the ground, the knowledge that Guy and Richard bring will help guide our exploration efforts towards that next stage." commented Kiril Mugerman, President & CEO of Kintavar Exploration.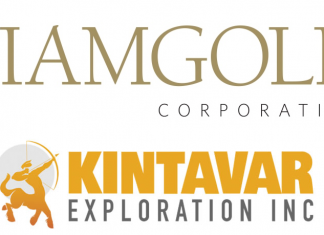 "We are very excited to have reached an agreement with IAMGOLD on the Anik gold project. Since its discovery in 2014 by our technical team, we have observed regional developments which have laid the foundation to create the next potential mining camp in Quebec. With IAMGOLD leading the way on the adjacent Nelligan project and other assets in its vicinity, this further consolidation with the Anik gold project will help further advance mining development in the Chapais-Chibougamau area. Partnering with a major having a reputation such as IAMGOLD to advance the Anik gold project, Kintavar shareholders will have significant upside exposure to one of the most active gold exploration regions in Quebec" commented Kiril Mugerman, President & CEO of Kintavar.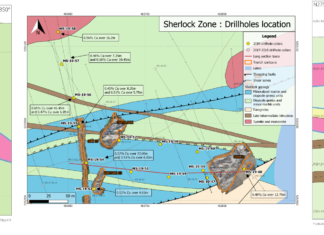 "The Sherlock zone continues to deliver thickness, grade and size. The interpretation from the structural work in summer of 2019 has been confirmed with this drilling program as we can see in both the long section and the cross section presented. Every single drill hole to date from this program successfully intersected the mineralized unit. We are very encouraged by this and look forward to putting the entire picture together with the upcoming remaining results." comments Kiril Mugerman, President & CEO of Kintavar.