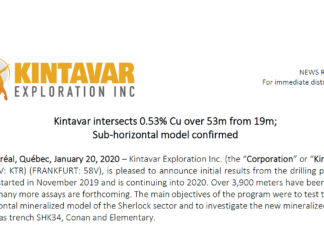 "We are very excited to see these first results which confirm our interpretation. The units are now better defined with higher grade and very clear boundaries which would make for easier modeling. The way the mineralization is hosted within the marble units is now much more evident and clearly demonstrates the advantages of shallow mineralization model we have at Mitchi versus a traditional porphyry. Shallow open pit deposits with selective mining have significantly lower capital cost requirements in comparison to the bulk tonnage porphyry deposits. We are looking forward to more results from this ongoing drilling program over the coming months." comments Kiril Mugerman, President & CEO of Kintavar.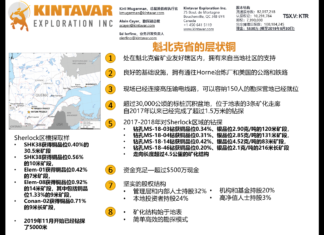 Mineralization from surface Simple & efficient exploration model 矿化结构始于地表 简单高效的勘探模式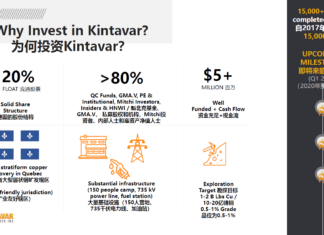 STRATIFORM COPPER IN QUEBEC 魁北克省层状铜 Exploration Target 勘探目标 1-2 B Lbs Cu / 10-20亿磅铜 0.5-1% Grade 品位为0.5-1%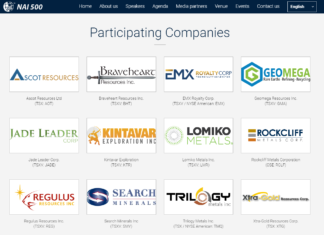 "As the price of gold renews interest in investing in natural resources, Chinese investors in Canada are now looking for mineral and energy investments in their portfolios. The 2020 GCFF Vancouver Resources Investment Conference will bring together one of Canada's fastest-growing Chinese investor communities and bring investment opportunities in the metals and minerals sectors."