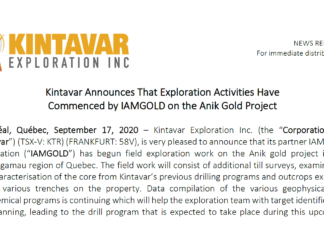 Kintavar annonce le début des travaux d'exploration sur la propriété aurifère Anik par son partenaire IAMGOLD Montréal, Québec, September 17, 2020 – Kintavar Exploration Inc....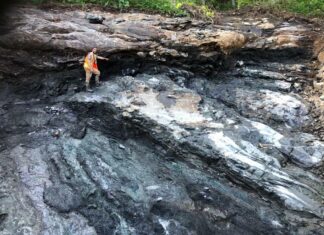 New massive zones of copper mineralization discovered at Mitchi. Assays pending. Stay tuned for results. Kiril Mugerman posted on LinkedIn Guess what? New massive zones...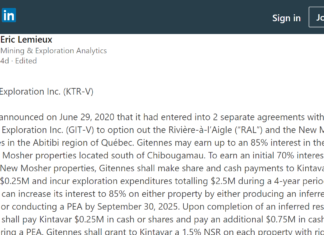 Kintavar announced on June 29, 2020 that it had entered into 2 separate agreements with Gitennes Exploration Inc. (GIT-V) to option out the Rivière-à-l'Aigle ("RAL") and the New Mosher properties in the Abitibi region of Québec. Gitennes may earn up to an 85% interest in the RAL and New Mosher properties located south of Chibougamau. To earn an initial 70% interests in the RAL and New Mosher properties, Gitennes shall make share and cash payments to Kintavar totalling $0.25M and incur exploration expenditures totalling $2.5M during a 4-year period. Gitennes can increase its interest to 85% on either property by either producing an inferred resource or conducting a PEA by September 30, 2025. Upon completion of an inferred resource Gitennes shall pay Kintavar $0.25M in cash or shares and pay an additional $0.75M in cash only on delivering a PEA. Gitennes shall grant to Kintavar a 1.5% NSR on each property with right to purchase 1% for $1M.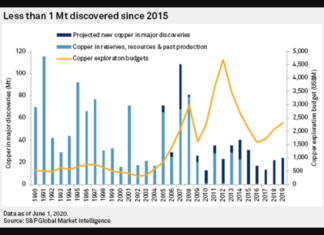 "This year's analysis of major copper discoveries has identified 224 copper deposits discovered over the 1990-2019 period, containing 1.08 billion tonnes of copper in reserves, resources and past production. Of the 224 copper deposits discovered, only 16 have been found in the past 10 years and only one since 2015. While there is still an abundance of undeveloped discoveries, most are smaller or low grade, with relatively few high-quality assets available for development."