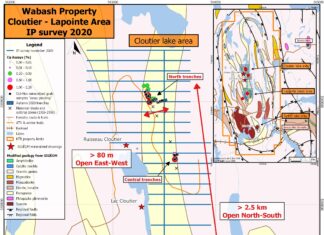 "We have completed a first detailed exploration campaign at the Wabash project and the sudden late autumn warm weather provided a very fortunate extension to our field program. The team worked very hard to complete a very significant portion of the exploration program to give us a great opportunity to drill the Wabash project this winter. We expect results from the IP survey and the channel samples in the coming months which will be used to plan the next exploration steps on this very promising project. Based on the work completed we see significant potential to delineate mineralized zones of large volume." commented Kiril Mugerman, President & CEO of Kintavar Exploration.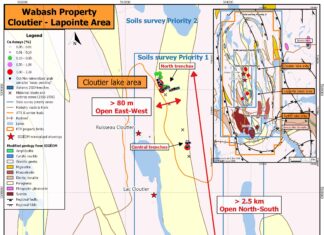 "We are very encouraged by the fall exploration program. The visual observations at Wabash, the discovery of new trenches and the initial anomalies coming out from the soil survey are all indicative of a potential important discovery. The work and the observations by the geological team, lead by Alain Cayer, have consistently revealed that mineralization starts from surface and can be traced to over 2.5km long within a corridor that is over 80m wide in the north and over 200m wide in the south. The corridor remains open in all 4 directions. The mineralized units appear to be generally dipping 35° to 45° to the N – NNW. These first channel samples will provide a better grade estimate and the continuity of the mineralized units. The knowledge gained from the Mitchi project is facilitating to fast track the Wabash project. We are looking forward to getting back results in the near future to be able to plan the next stage of the exploration program." commented Kiril Mugerman, President & CEO of Kintavar Exploration.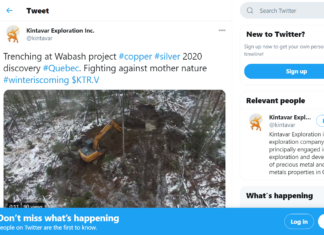 Check out this video of our crew trenching at the Wabash project. This was a discovery for us in 2020 with new copper and...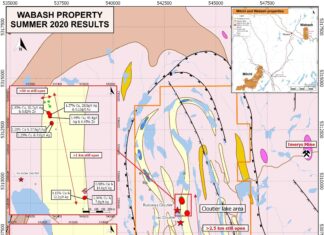 The identified mineralization shows several similarities as well to the world class Zn-Pb-Ag-Mn-Cu Hermosa project in Arizona, US that was acquired by South32 from Arizona Mining in 2018 for $2.1B. The Hermosa project is comprised of several underground stratabound deposits, each having a distinctive enrichment pattern in these five metals.