The Anik gold property is situated 40 km to the south-east of the town of Chapais and 55 km to the south of the town of Chibougamau, in Québec. The project consists of 120 claims totalling 6,700 hectares.
The project area resides approximately 40 km southeast of Chapais into the Eeyou Istche/Baie-James territory of Quebec.
Most of the project area can be accessed from the gravel road linking the former Joe Mann Mine to the 167 paved road connecting Lac Saint-Jean region to Chibougamau.
The nearby towns of Chapais, Chibougamau and Oujé-Bougoumou provide facilities and workforce for exploration and mining development. The SE Claims Block is crossed by the high-voltage power line of Hydro-Québec. In 2020, the Anik project has been optioned to IAMGOLD as part of a 75% option for up to $6.5M work commitment and up to $3M in cash payments. Details of the transaction can been viewed in the press release below.
Located in the Opawica-Guercheville deformation corridor, host to several gold mines and deposits. The eastern portion of the property is located less than 7 km from the Joe Mann mine and the Lac Meston and Phillibert deposits. The western portion of the property is located less than 10 km to the south of the Monster Lake and Fancamp gold projects. In addition, the main gold zones of the Nelligan property, a joint venture between Vanstar Ressources and IAMGOLD, are surrounded to the north, south and east by Anik property boundaries at a distance of less than 1,500 metres.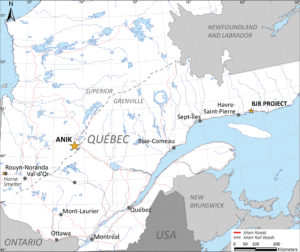 "We are very excited to have reached an agreement with IAMGOLD on the Anik gold project. Since its discovery in 2014 by our technical team, we have observed regional developments which have laid the foundation to create the next potential mining camp in Quebec." Mr. Kiril Mugerman